Good life choices lately:
Showers in the morning
Breakfast
leaving enough time to get to school
leaving time to read
drawing
Honey facial masks... delicious too.
listening to the oldies station on the radio.
I drew a picture yesterday of a chubby girl flipping someone off saying uzai!! hahaha i love it. I'd post it on here, but i've been moving lately and don't have a scanner at the moment.
And i love skype.
I need to get my room put together its taking me foreverrrrr.....
hopefully when i get more settled i can start drawing a webcomic like i had originally planned this fall...yayyyy
and i need to finish the world ends with you: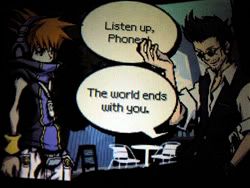 Seriously!! And that's the truth!!!