Saturday, October 31, 2009
Saturday, October 24, 2009
gahhhh getting things put together in my room is killing me...
I have my bathroom all put together now i just have to continue with my beast of a mess in my room. Gah!
also; medical terminology test monday and bio test tuesday. x.x
can we say despair?
I saw Repo! The Genetic Opera yesterday and i have to say i almost instant fell in love with it. toteimo sugoi, ne?
Things that have been making me happy lately:
kari kari umeboshi
amazing friends
slowly but surely becoming more organized
tea
wednesdays
slurpees
skype
colours
humour x.x
feathers
I tried to make eyeshadow today using lipstick, lotion and this powdered shimmer stuff...hmmm it kinda worked out haha, it is more of a "liquid stain" than a powdered eye shadow...hmm but it was kinda fun and sorta worked nonetheless.
Still not organized enough to have time to do a webcomic. Maybe next month...which is in like a week. I mean hey, i'm not in a huge rush, I still have some story stuff I want to flesh out anyway.
Speaking of webcomics i loved questionable content this week. It was just seriously adorable.
I'm forgetting so much japanese its almost depressing..skype come to my rescue!! its only a 14 hour time difference!! And while your at it, could you provide me with a job that pays really well for doing nothing whatsoever? thanks!!
Posted by

Taye
at 10:57 PM
No comments:

Wednesday, October 7, 2009
Good life choices lately:
Showers in the morning
Breakfast
leaving enough time to get to school
leaving time to read
drawing
Honey facial masks... delicious too.
listening to the oldies station on the radio.
I drew a picture yesterday of a chubby girl flipping someone off saying uzai!! hahaha i love it. I'd post it on here, but i've been moving lately and don't have a scanner at the moment.
And i love skype.
I need to get my room put together its taking me foreverrrrr.....
hopefully when i get more settled i can start drawing a webcomic like i had originally planned this fall...yayyyy
and i need to finish the world ends with you: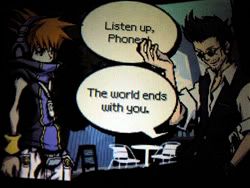 Seriously!! And that's the truth!!!
Posted by

Taye
at 2:57 PM
No comments: