When I was little
I used to think clouds stayed in one spot.
I love days like this,
Windy and bustly,
The sun shines bright
And the blue true dream of sky is before me
I find shade from the harsh rays of sun
And watch the clouds move
That I once thought so stationary.
I have all the time in the world.
I love days like these.
I don't know what I want this blog to be about.
And I don't know what I want to get out of it,
or anyone who happens to read or stumble across this place.
But the point of the matter is I am compelled to write,
and this place will serve as an occasional outlet for that drive.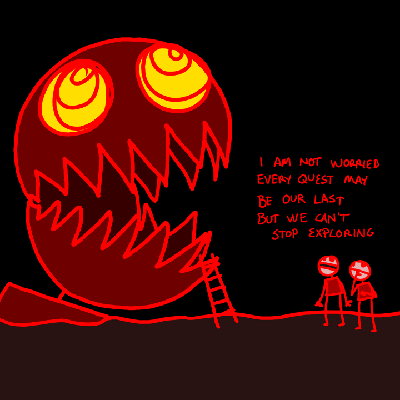 I found this on explodingdog.com. I really like it, at the time it made me think of a friend and i.
Its been good to be home. I really cleaned up! Seven different kinds of tea and all sorts of awesome treats, wow, being home is fun!! Ha. Today we went to a local farmers market which was awesome, it was so small but still a lot of fun and I wish the area around my school had one…maybe they do, I should check! Its been relaxing I took no homework with me so I've just been hanging out which has been soooooo nice.
I've realized lately I really really like taking photographs. I've taken my camera everywhere this trip even to grocery stores and I used it so much I wore out the battery in 3 days! (I forgot the charger).
Annnnnnddd I tried to roast marshmallows with just matches the other night…it kinda worked out..(not really) now delicious(my computer) has a scortch mark on it….yayyyyyy =/. But it was fun in the moment!!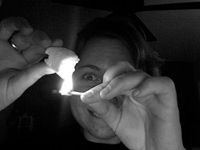 I will admit I look a little insane..
On a different note,
I have found myself in a strange place
The tables of my reality, which I was becoming so of sure, have
Have flipped dramatically
And maybe that's a lie
Maybe I was never sure of them.
All I know now is that I'm kinda going though a self-discovery of sorts. (Which I guess college is for.)
Which entails a lot of things
But it entails adventure
Which I have found is one thing that excites me.
There is so much life
I want to, I need to go and find out things
Fill in the grey areas.
I want to know my favorite ice cream flavor,
I want to know my favorite colour,
I want to be able to see the world.
If I know myself perhaps I can know my place
And then see things as they really are.